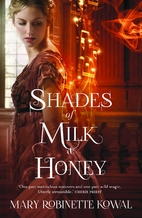 Here's a slight twist on the Regency romance – in this world, some people are gifted with the abilities of glamour – the magical ability to manipulate light. At its most basic form, it's considered womanly magic, something used to make the home brighter and more comfortable.
Where the regular Regency romance comes in is the two sisters: Jane is the older of the two, and while plain, has the better ability in glamour, while Melody, though beautiful doesn't have much magical ability to speak of. They both need to get good husbands, and there are several eligible young men newly arrived to the neighborhood. You can pretty much imagine where this goes from here.
What I loved about this book was the magic, and the characters. What I didn't like so much was the writing. A good Regency romance has a sprightly air about it, and this book did not have that. Some of the language was just plain unwieldy. And it's a shame too, because the story itself has so much potential. I feel like a little more editing would have improved it greatly.