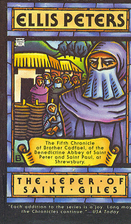 Read for the RIP IX Reading Challenge.
I really hadn't meant to have a historical mystery theme to my RIP reading this year, but that does seem to be what I have in my TBR pile lately. This is book five of the Brother Cadfael books.
Brother's Cadfael's abbey is in a bit of an uproar – they're hosting the wedding of one of the area's largest landowners, to an heiress who also has extensive lands. When it turns out that the groom is old enough to be the bride's grandfather, and she arrives more or less under constant guard by her guardians, Cadfael's interest is peaked. Ivetta is the granddaughter of a man Cadfael fought under in the Crusades – a hero who died in the Holy Land.
When the groom is murdered, the accused, a young man who had been in the groom's retinue and had fallen in love with Ivetta, takes refuge among the lepers of Saint Giles – their asylum being not far from the Abbey. The lepers, especially an elderly wanderer who calls himself Lazurus, seem to have taken a special interest in the murder, and Cadfael does all he can to solve it, for the sake of Ivetta, and the young man who loves her.
I really liked this book. The romance could have been overdone and fraught, but Peters handled it well. I also had no idea who the real murderer was – definitely the sign of a well thought out mystery.